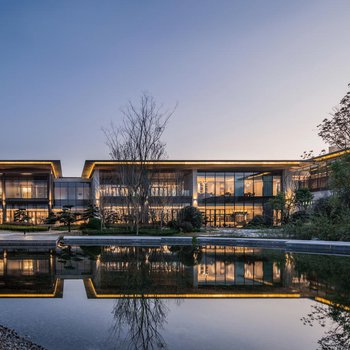 Ocean Spring Resort Chengdu - MGallery, is invested by China National Travel Service Group Corporation Limited, managed by Accorhotels.
Located in the heart of White Horse Hot Spring as one the eight sceneries of Jintang county, adjoining to Chengdu International Triathlon Park, Ocean Spring Resort Chengdu - MGallery offers boutique accommodation with a fascinating view of idyllic landscapes. All 66 rooms are well appointed with modern amenities in New Asia Style and include 44 villas with private hot spring pools. The Radon Hot Spring Center also contains 21 different pools where you could experience the immediate integration and relaxation in nature.
The hotel features an all day dining restaurant, private Chinese dining rooms, a 400sqm grand ballroom, 3 function rooms, outdoor wedding venue, a fitness center, 9 chess rooms and 2 advanced SPA rooms. Ocean Spring Resort Chengdu is the true haven for relaxation in natural sanctuaries and enjoying the peaceful settings and wellbeing services with your family or friends.